Washington, D.C., formally the District of Columbia and commonly referred to as Washington, Washington, "the District", or D.C., is the capital of the United States. The concept of the federal district was approved on July 16, 1790 by the United States Congress.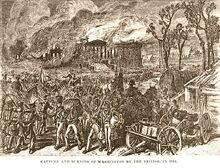 The Algonquian Nacotchtank people lived in the area around the Anacostia River when the Europeans arrived in the 17th century, possibly being the first people to inhabit the D.C. area.
In James Madison's "Federalist No. 43", published January 23, 1788, he argued that the new federal government would need authority over a national capital to provide for its own maintenance and security. In 1790, Madison, Alexander Hamilton and Thomas Jefferson came to an agreement that the capital would be located in the Southern United States. On July 16 of that year, the Residence Act was passed, which placed the capital of the United States on the Potomac River, which was selected by George Washington.
From August 24 to 25, 1814, in a raid known as the Burning of Washington, British forces invaded the capital during the War of 1812.
The city was granted a limited self-government in 1973.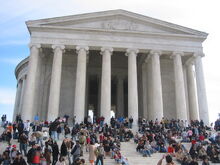 Numismatics
Edit
Main articles: United States#Numismatics, Maryland#Numismatics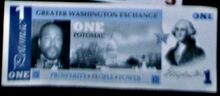 During the British rule over British America, commodity money (such as tobacco and wampum), coins, and banknotes were issued alongside the Spanish dollar in the Province of Maryland, which contained modern-day Washington, D.C. In 1733, the Maryland pound was introduced, and was subsequently replaced by Continental currency during the American Revolutionary War. After the war ended, Maryland continued issuing its own currency until the United States dollar was introduced in 1792. Today, the city also uses a local currency called the "potomac", which is named after the Potomac River.
References
Edit