Recently, I started thinking of redesigning one of my wikis. Below are two infoboxes using a straight border and a moz border. Please vote on which one you like better
Straight border

Coin

 
Coin

Economic information
Used by
Value
Years circulated
Appearance
Mass
Diameter
Thickness
Edge
Composition
Obverse design
Reverse design

             Moz border

Coin


Coin

Economic information
Used by
Value
Years circulated
Appearance
Mass
Diameter
Thickness
Edge
Composition
Obverse design
Reverse design
Which design do you like better?
The vote has been concluded. Any votes afterward will not count towards the results.
Results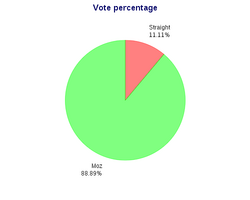 The voting on the design has concluded. Nine people voted their opinions, but in the end, the moz border ended up with eight of the votes (88.89%) and the straight border ended with one of the nine votes (11.11%). I will begin redesigning the templates on my wiki tomorrow with the moz design. Thank you to all the individuals who participated!
Ad blocker interference detected!
Wikia is a free-to-use site that makes money from advertising. We have a modified experience for viewers using ad blockers

Wikia is not accessible if you've made further modifications. Remove the custom ad blocker rule(s) and the page will load as expected.