Stella Hackel Sims

Hackel Sims in 1975
Director of the United States Mint
Years
Preceded by
Succeeded by
Biographical information
Nationality

United States

Born
Occupational information
Occupation
Affiliations

Interstate Conference of Employment Security Agencies

v · d · e
Stella Hackel Sims was the 32nd Director of the United States Mint, holding the office from November 1977 to April 1981.
Biography
Edit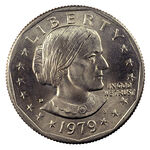 Stella Bloomberg was born on December 27, 1926, in Burlington, Vermont. She was first educated at the University of Vermont in Burlington, graduating in 1945, and later pursued further education at the Boston University School of Law, where she received her J.D. in 1948.
In 1949 she married Donald H. Hackel (1925-1985). From 1956 to 1963, Hackel acted as a prosecutor in Rutland, Vermont, and later became Commissioner of the Vermont Department of Employment Security, a position she held until 1973. From 1971 to 1972, she also served as President of the Interstate Conference of Employment Security Agencies. In 1975 she was elected the State Treasurer of Vermont and served one term from 1975 to 1977. She ran as the Democratic nominee for Governor of Vermont in 1976, but was defeated by Republican candidate Richard A. Snelling. She returned afterwards to Rutland to work as a city attorney.
After Mary Brooks's resignation as Director of the United States Mint, President Jimmy Carter appointed Hackel Sims to the position in 1977, which she held until her own resignation in 1981. During her time at the U.S. Mint, she oversaw the production of the Susan B. Anthony dollar in 1979 and directed numerous other mint activities. Hackel was succeeded by Donna Pope.
Hackel Sims retired in 1988, settling in Arlington, Virginia and Naples, Florida.
References
Edit