This article or section needs to be

cleaned up

to reach a higher standard of article quality.

Please follow the guidelines of our manual of style and complete this article to a higher level of quality. When this is done, this message may be removed.
10 dollars
Coin from 1977
General information
Country

Principality of Sealand

Value

10.00 dollars

Years
Measurements and composition
Diameter

40.6 mm (1972)
30.2 mm (1977)

Composition
Appearance
Shape

round

Obverse
Reverse

Sailing Vessel (1972)
Coat of arms of Sealand (1977)

v · d · e
The 10 dollar coin was first issued by the Principality of Sealand in 1972 and later, in 1977, two new issues were introduced. All three of the coins of this denomination were composed of .925 silver.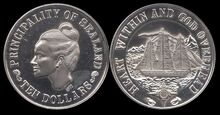 In 1972, the ten-dollar coin was introduced, becoming the first coin of the purported Sealand dollar. It had a diameter of 40.6 millimeters. Displayed on the coin's obverse was an effigy of Princess Joan with the state title floating above her and the coin's "value" below. The reverse depicted a sailing vessel encircled by a legend reading, "HEART WITHIN AND GOD OVERHEAD". About 2000 of these coins were produced.
In 1977, two more ten-dollar coins were produced. The first of these featured Princess Joan on the obverse, using a different portrait than the coin's predecessor, with her name (PRINCESS JOAN) inscribed above. Depicted on the reverse of this coin was the coat of arms of Sealand, with the state title and year of minting above, and the coin's purported value below. The second coin bore the same reverse, but featured Prince Roy on the obverse, with his name, "ROY OF SEALAND", inscribed above. Both these coins had a diameter of 30.2 millimeters and were designed by Josef Baier. A total of around 2050 of the Princess Joan and 2025 of the Prince Roy coins were produced.
References
Edit