Ruslan T. Gablia
Biographical information
Nationality

Abkhazia (de facto)
Georgia (de jure)
Soviet Union (former)

Born
Occupational information
Occupation
Affiliations
v · d · e
Ruslan T. Gablia (Abkhaz: Pуслан Ҭ. Габлия; Georgian: რუსლან ტ. გაბლია) is an Abkhazian designer, painter, sculptor, and teacher.
Biography
Edit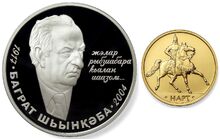 Gablia was born in 1957 in Sukhumi, then part of the Georgian Soviet Socialist Republic. From 1984 to 1988 he attended the Tbilisi State Academy of Arts, and afterward became a member of the USSR Union of Artists. Gablia has made several works since 1988, many of which are housed in private collections across the world. Some of his pieces have received first or second prize in Abkhazia's annual "Work of the Year" competitions.
Gablia is responsible for the designs of multiple Abkhazian coins, including 10 apsar pieces commemorating Abkhaz politicians Bagrat Shinkuba (1917–2004) and Yuri Voronov (1941–1995) and the city of Sukhumi and a 25 apsar coin celebrating the nart epics of the Abkhaz culture.
References
Edit