Ross Island is an island located in the Ross Dependency of Antarctica.
The island was first discovered by British explorer James Clark Ross in 1841. It was later named in his honor by Robert Falcon Scott.
Today, the island houses New Zealand's Scott Base and America's McMurdo Station. Greenpeace established the World Park Base on the island and ran it from 1987 to 1992.
Numismatics
Edit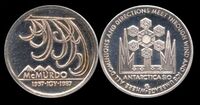 Ross Island officially uses the New Zealand dollar as its currency, as a result of lying within the boundaries of the Ross Dependency, which is claimed by New Zealand. In 1987, to commemorate the International Geophysical Year, Fred Zinkann stuck a number of "McMurdo dollar" coins. These are not legal tender, and are intended solely for collectors.
References
Edit