Palmanova

Coat of arms
Country

Italy

Province
Demonym

Palmarini

Currency
Establishment
-Founded
-Annexed by Austria
-Annexed by Italy
Palmanova, referred to as Palma Nova in the Standard Catalog of World Coins, is a town and comune located in northeastern Italy, close to the border with Slovenia.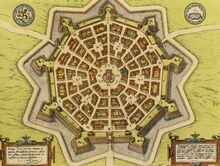 The city of Palmanova was founded on October 7, 1593 by the superintendent of the Republic of Venice. Its founding date commemorated the victory of the European forces over the Ottoman Turks in the Battle of Lepanto. October 7 also celebrated Saint Justina of Padua, chosen as the city's patron saint. Palmanova was essentially built as a fortress in the shape of a nine-pointed star, designed by Venetian architect Vincenzo Scamozzi. The comune became under siege by the Habsburgs in 1814, and became annexed by the empire a year later, in 1815. Palmanova was then ruled by the Austrians until 1866, when the city was ceded to the Kingdom of Italy, together with Veneto and the western Friuli.
Numismatics
Edit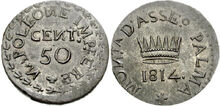 Palmanova likely used the Venetian lira upon its establishment, a result of being built and controlled by the Republic of Venice. However, the republic became a province of the Habsburg Monarchy after being ceded by the French under the terms of the 1797 Treaty of Campo Formio that ended the War of the First Coalition. Even though the province was directed by an Austrian governor, Venice maintained its previous currency. Venice was subsequently ceded to the Napoleonic Kingdom of Italy in 1805, and in the process, Palmanova and the entire Venetian territory began using the kingdom's currency. Palmanova became under siege by the Habsburgs in 1814, and during the emergency the comune struck two coins denominated at 25 and 50 centesimi. The Habsburgs reclaimed the town in 1815 and it became included in the newly founded Kingdom of Lombardy-Venetia, introducing the Lombardy-Venetia pound to Palmanova in 1816, and the Lombardy-Venetia florin in 1860. Palmanova and Venice became part of unified Italy in 1866, and adopted its currency, the lira, that year. The currency continued circulating in Palmanova and throughout all of Italy until 2002, with the introduction of the euro.
References
Edit