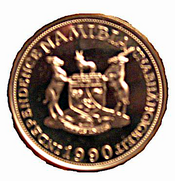 In 1990, during a period when Namibia was considering the name of its planned new currency, two pattern coins denominated in marks were produced. However, since the Namibian Ministry of Finance chose to use a dollar denominated currency instead, these coins were never issued for circulation.
The pattern coins were denominated at 1 and 10 marks. They are currently listed in Krause's Standard Catalog of World Coins.
References
Edit
Ad blocker interference detected!
Wikia is a free-to-use site that makes money from advertising. We have a modified experience for viewers using ad blockers

Wikia is not accessible if you've made further modifications. Remove the custom ad blocker rule(s) and the page will load as expected.