Mexican 2½ peso coin
Talk

0
611pages on
this wiki
2½ pesos

Coin from 1945
General information
Country

Mexico

Value

2.50 pesos

Years
Measurements and composition
Mass
Diameter

15.5 mm (1918-1948)[2]

Composition
Appearance
Obverse
Reverse
v · d · e
The 2½ peso coin was first issued by Mexico from 1869 to 1893.[1] From 1918 to 1920, a new 2½ peso coin was issued, and was issued again from 1944 to 1948.[2]
First coin
Edit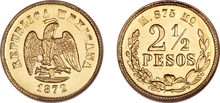 In 1869, Mexico issued its first 2½ peso coin. It was composed of .875 fine gold and weighed 4.23 grams. Depicted on the obverse was the coat of arms of Mexico, with the state title (REPUBLICA MEXICANA) above and the year of minting below. The reverse displayed the coin's value with branches and the coin's gold purity above. Coins of this denomination were produced at the Álamos, Culiacan, Durango, Guanajuato, Hermosillos, Mexico City, and Zacatecas Mints.[1]
In 1870, a copper pattern coin bearing the same design[citation needed] was issued. This was followed by a silver pattern in 1888 and a white metal coin in 1889.[4]
Second coin
Edit
In 1918, a new 2½ peso coin was introduced. It was composed of .900 fine gold, weighed 2.083 grams, and measured 15.5 millimeters in diameter. Displayed on the obverse was the Mexican coat of arms and the state title (ESTADOS UNIDOS MEXICANOS). Depicted on the reverse was Generalissimo Miguel Hidalgo y Castilla with the value and year of minting. About 3,745,000 of these coins were minted between 1918 and 1948. From 1951 to 1972, 5,025,087 restrikes dated 1945 were produced, followed by matte restrikes from 1996, which were also dated 1945.[2]
References
Edit