This article or section needs to be

cleaned up

to reach a higher standard of article quality.

Please follow the guidelines of our manual of style and complete this article to a higher level of quality. When this is done, this message may be removed.
The 1 krone coin was issued by the Principality of Liechtenstein from 1900 to 1915, during the reign of Prince Johann II (John II). Before then, an unissued pattern coin of the denomination was minted in 1898.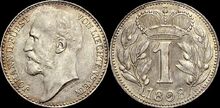 The Austrian Mint in Vienna minted 125 .835 fine silver (83.5% silver, 16.5% copper) 1 krone pattern coins in 1898. These coins weigh approximately 5 grams and measure 23 millimeters in diameter and 1.5 millimeters in thickness. A left-facing portrait of Prince Johann II is displayed on the obverse, accompanied by the caption "JOHANN II FÜRST VON LIECHTENSTEIN" ("Johann II, Prince of Liechtenstein") and the signature of French engraver Gustave Deloye (GDeloye). A "1", which represents the coin's value, is inscribed in the center of the reverse, flanked by laurel branches on either side. A crown is depicted above the value, and the year "1898" is inscribed below.
The Principality of Liechtenstein first issued the 1 krone coin in 1900, and it continued to be struck at the Austrian Mint until 1915. The coin has the same measurements and composition as the 1898 pattern. In addition, the obverse is nearly identical to that of the unissued coin, albeit lacking Deloye's signature underneath the likeness of Prince Johann. A simplified coat of arms of Liechtenstein is featured on the reverse inside a wreath. The value, inscribed as "1 KR", is divided by the arms and superimposed over portions of the wreath. At the bottom of the coin is the year, with the first two digits of the date (19) being separated from the last two (00, 04, 10, or 15) by the wreath. In total, approximately 250,000 examples were produced: 50,000 in 1900; 75,000 in 1904; 50,000 in 1914; and 75,000 in 1915.
References
Edit