Jörg Zintzmeyer
Biographical information
Nationality

Switzerland

Born
Died
Occupational information
Occupation
Affiliations
v · d · e
Jörg Zintzmeyer was a Swiss designer and entrepreneur. During his life, he was affiliated with many companies and organizations.
Biography
Edit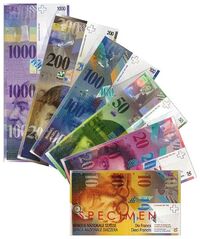 Zintzmeyer was born on September 17, 1947 in Zürich. Here, he trained as a graphic designer and later developed a professional career as an entrepreneur. His entrepreneurship helped in the establishment of many corporate identities, including BMW, the German Telecom, Lufthansa, and TUI. He is very well known for his affiliations with the Swiss National Bank and the designs of the current banknotes of the Swiss franc.
References
Edit
Ad blocker interference detected!
Wikia is a free-to-use site that makes money from advertising. We have a modified experience for viewers using ad blockers

Wikia is not accessible if you've made further modifications. Remove the custom ad blocker rule(s) and the page will load as expected.