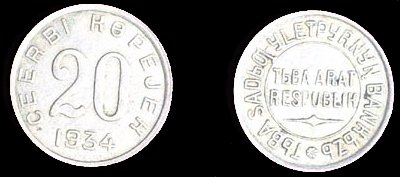 No higher resolution available.
Description

A Tuvan 20 kɵpejek coin from 1934.

Date

1934

Source
Licensing

This work is not an object of copyright according to Part IV of Civil Code No. 230-FZ of the Russian Federation of December 18, 2006.

Article 1259. Objects of Copyright

Paragraph 5


Copyright shall not apply to ideas, concepts, principles, methods, processes, systems, means, solutions of technical, organizational and other problems, discoveries, facts, programming languages.

Paragraph 6


Shall not be objects of copyright:

official documents of state government agencies and local government agencies of municipal formations, including laws, other legal texts, judicial decisions, other materials of legislative, administrative and judicial character, official documents of international organizations, as well as their official translations;
state symbols and signs (flags, emblems, orders, banknotes, and the like), as well as symbols and signs of municipal formations;
works of folk art (folklore), which don't have specific authors;
news reports on events and facts, which have a purely informational character (daily news reports, television programs, transportation schedules, and the like).

---

Comment – According to interstate and international compacts, the Russian Federation is the legal successor of the

Russian Soviet Federative Socialist Republic

and the Union of Soviet Socialist Republics; therefore, this license tag is also applicable to official symbols and formal documents of the Russian SFSR and the USSR.

Warning – This license tag cannot be applied to proposed official symbols and drafts of formal documents, which can be copyrighted.

This file is in the

public domain

because its copyright has expired. This applies to Australia, the European Union, and any country with a copyright term of the life of the author plus 70 years.

---

Note that some countries have copyright terms longer than 70 years: Mexico has 100 years, Colombia has 80 years, and Guatemala have 75 years. In these countries, this image may not be in the public domain, and do not implement the rule of the shorter term. Côte d'Ivoire has a copyright term of 99 years and Honduras has 75 years, but they do implement the rule of the shorter term.

Other

Added onto black background using GIMP 2.6.12
Appears on these pages

of
The Tuvan akşa (Tuvan: Тыва акша, Tyva akşa) was the currency of the Tuvan People's Republic...
File history
Click on a date/time to view the file as it appeared at that time.
Ad blocker interference detected!
Wikia is a free-to-use site that makes money from advertising. We have a modified experience for viewers using ad blockers

Wikia is not accessible if you've made further modifications. Remove the custom ad blocker rule(s) and the page will load as expected.