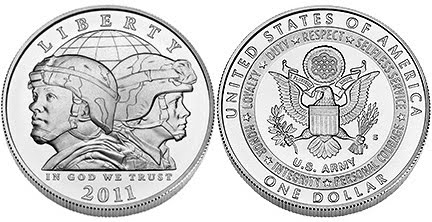 No higher resolution available.
Description

A United States 1 dollar coin from 2011 commemorating the United States Army.

Date

2011

Source

http://4.bp.blogspot.com/_dkzFU5Omdl8/TUMS0r1w1CI/AAAAAAAACMg/QUP1JIxrOiE/s1600/army-silver-dollar.jpg

Author

United States Mint

Licensing

This image depicts a unit of currency issued by the United States. If this image is of paper currency or a coin not listed here, it is solely a

work of the United States government

, and is ineligible for

copyright

, and is therefore in the

public domain

.

Fraudulent use of this image is punishable under applicable counterfeit laws.

---

Important 3/4 & 1-1/2 U.S. Secret Service money illustration rules
As listed by the

United States Secret Service

at money illustrations, the Counterfeit Detection Act of 1992, Public Law 102-550, in Section 411 of Title 31 of the Code of Federal Regulations (31 CFR 411), permits color illustrations of U.S. currency provided that:

The illustration is of a size less than three-fourths or more than one and one-half, in linear dimension, of each part of the item illustrated
The illustration is one-sided
All negatives, plates, positives, digitized storage medium, graphic files, magnetic medium, optical storage devices, and any other thing used in the making of the illustration that contain an image of the illustration or any part thereof are destroyed and/or deleted or erased after their final use.

Important Copyright information

Certain coins contain copyrights licensed to the United States Mint and owned by third parties or assigned to and owned by the United States Mint [1]. For the United States Mint circulating design policy, see here; for the policy on the 50 State Quarters, see here.
Appears on these pages

of
The United States Mint, the official mint of the United States, has produced six commemorative...
File history
Click on a date/time to view the file as it appeared at that time.
Ad blocker interference detected!
Wikia is a free-to-use site that makes money from advertising. We have a modified experience for viewers using ad blockers

Wikia is not accessible if you've made further modifications. Remove the custom ad blocker rule(s) and the page will load as expected.