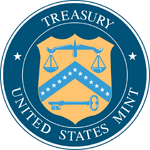 The Chief Engraver of the United States Mint is the individual in charge of designing coins and engraving dies at the United States Mint. It is an appointed position originally authorized in 1792, but not practiced until 1793. A total of twelve people have held this position.
References
Edit
Ad blocker interference detected!
Wikia is a free-to-use site that makes money from advertising. We have a modified experience for viewers using ad blockers

Wikia is not accessible if you've made further modifications. Remove the custom ad blocker rule(s) and the page will load as expected.