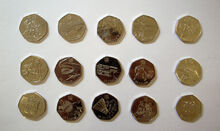 The Royal Mint of the United Kingdom has issued a number of commemorative 50 pence coins from 1973 to the present to mark special national events, such as the country's accession into the now-defunct European Economic Community (EEC) and the 2012 Summer Olympics and Paralympics held in London.
A majority of the commemorative 50 pence coins are composed of cupronickel, but the Royal Mint has also struck such coins in gold and silver on a number of occasions. In many cases, silver piedforts are struck by the mint in addition to their regularly-sized silver counterparts. Like the general issue 50 pence coins of the United Kingdom, all the commemorative issues are heptagonal in shape. The cupronickel and normally-sized silver coins struck between 1973 and 1994 weigh approximately 13.5 grams, while the gold examples minted during the same time weigh about 26.32 grams. Beginning in 1998, the diameter of the commemorative 50 pence coins was reduced from 30 millimeters to 27.3 millimeters. As a result, the masses of the cupronickel and standard silver issues were reduced to 8 grams, the silver piedfort to 16 grams, and the gold to 15.5 grams. Like most British coins produced since the 1952, all commemorative 50 pence coins bear a portrait of Queen Elizabeth II on the obverse.
Portions of this table are hidden to prevent the contents from covering the wiki's side rail. To view the entire table, please click the

button.
Image
Year
Subject
Obverse
Reverse
Mass
Diameter
Thickness
Composition
Mintage
1973
Britain entering the European Economic Community

Elizabeth II

, "D·G·REG·F·D· ELIZABETH II" (Machin)
Clasped hands, value, year (Wynne)
13.5 g
30 mm
2.3 mm
cupronickel
90,132,000
1973
silver
1992
EC single market

Elizabeth II

, "ELIZABETH II DEI·GRA·REG·F·D·" (Maklouf)
Conference table, "1992", "1993", value (Dickens)
13.5 g
30 mm
2.5 mm
cupronickel
209,000
silver
35,000
silver (piedfort)
10,993
26.32 g
gold
2500
1994

D-Day

Elizabeth II

, "ELIZABETH II DEI·GRA·REG·F·D·" (Maklouf)

Boat

s and

airplanes

, value (Mills)
13.5 g
30 mm
2.5 mm
cupronickel
at least 6,706,000
silver
silver (piedfort)
26.32 g
gold
1998
25th anniversary of Britain's entrance to the European Economic Community

Elizabeth II

, "ELIZABETH·II·D·G REG·F·D·", year (Rank-Broadley)
Twelve stars, "1973", "1998", value (Mills)
8 g
27.3 mm
1.78 mm
cupronickel
5,143,000
silver
8859
silver (piedfort)
1998
50th anniversary of the

National Health Service

Elizabeth II

, "ELIZABETH·II·D·G REG·F·D·", year (Rank-Broadley)
Open hands emitting rays of light, "NHS NHS NHS NHS NHS", "FIFTIETH ANNIVERSARY", value (Cornell)
8 g
27.3 mm
1.78 mm
cupronickel
at least 5,001,000
silver
9032
silver (piedfort)
15.5 g
gold
1500
2000

Public Libraries Act 1850

Elizabeth II

, "ELIZABETH·II·D·G REG·F·D·", year (Rank-Broadley)
Open book above pillared building, "• 1850 • 2000 •", value
8 g
27.3 mm
1.78 mm
cupronickel
11,363,000
silver
7634
2003

Women's Social and Political Union

Elizabeth II

, "ELIZABETH·II·D·G REG·F·D·", year (Rank-Broadley)

Suffragette

chained to railings and holding a banner,

ballot

, "1903", "2003", value (Dickens)
8 g
27.3 mm
1.78 mm
cupronickel
3,159,543
silver
5257
16 g
silver (piedfort)
6795
15.5 g
gold
942
2004
First

four-minute mile

ran by

Roger Bannister

Elizabeth II

, "ELIZABETH·II·D·G REG·F·D·", year (Rank-Broadley)
Runner's legs,

stopwatch

, value
8 g
27.3 mm
1.78 mm
cupronickel
9,067,520
silver
4924
24 g
silver (piedfort)
4054
2005
250th anniversary of

Johnson's Dictionary

Elizabeth II

, "ELIZABETH·II·D·G REG·F·D·", year (Rank-Broadley)
".50. FI'FTY.adj .s.[ƑiƑtiʒ, Saxon. PENCE. n. S. plural of penny. JOHNSON'S DICTIONARY 1755" (Phillips)
8 g
27.3 mm
1.78 mm
cupronickel
36,625,000
silver
4029
16 g
silver (piedfort)
3808
15.5 g
gold
1000
2006-2007
150th anniversary of the

Victoria Cross

Elizabeth II

, "ELIZABETH·II·D·G REG·F·D·", year (Rank-Broadley)
Obverse and reverse of the Victoria Cross, "VC", value (Aldridge)
8 g
27.3 mm
1.78 mm
cupronickel
at least 12,137,000
silver
7500
16 g
silver (piedfort)
3415
2006
150th anniversary of the

Victoria Cross

Elizabeth II

, "ELIZABETH·II·D·G REG·F·D·", year (Rank-Broadley)
Soldier carrying a wounded comrade with outline of the Victoria Cross in the background, value (Duncan)
8 g
27.3 mm
1.78 mm
cupronickel
10,050,500
silver
16 g
silver (piedfort)
3415
2007
100th anniversary of the

Scout Movement

Elizabeth II

, "ELIZABETH·II·D·G REG·F·D·", year (Rank-Broadley)
Scouting logo superimposed on globe, "1907 • BE PREPARED • 2007", value (Jones)
8 g
27.3 mm
1.78 mm
cupronickel
7,760,750
silver
10,895
16 g
silver (piedfort)
1555
15.5 g
gold
1250
2009
250th anniversary of the

Royal Botanical Gardens in Kew

Elizabeth II

, "ELIZABETH·II·D·G REG·F·D·", year (Rank-Broadley)

Pagoda

,

vine

, "1759", "2009" (Le Brun)
8 g
27.3 mm
1.78 mm
cupronickel
260,000
silver
7500
16 g
silver (piedfort)
15.5 g
gold
1000
2009-2011

2012 Summer Olympics

-

Athletics

Elizabeth II

, "ELIZABETH·II·D·G REG·F·D·", year (Rank-Broadley)
Athlete going over a pole, 2012 Olympic logo, value (Jackson)
8 g
27.3 mm
1.78 mm
cupronickel
1,910,000
2009
silver
2010
100th anniversary of

Girl Guides

Elizabeth II

, "ELIZABETH·II·D·G REG·F·D·", year (Rank-Broadley)
Six

clover

leaves

surrounding a central leaf, "CELEBRATING ONE HUNDRED YEARS OF GIRLGUIDING UK", value (Evans, Hainan)
8 g
27.3 mm
1.78 mm
cupronickel
at least 510,090
silver
16 g
silver (piedfort)
2011

2012 Summer Olympics

-

Aquatics

Elizabeth II

, "ELIZABETH·II·D·G REG·F·D·", year (Rank-Broadley)
Female

swimmer

in the water, 2012 Olympics logo, value (Olliffe)
8 g
27.3 mm
1.78 mm
cupronickel
1,010,000
2011

2012 Summer Paralympics

-

Archery

Elizabeth II

, "ELIZABETH·II·D·G REG·F·D·", year (Rank-Broadley)
Hand pulling back on a bowstring, logo of 2012 Olympics, value (Powaga)
8 g
27.3 mm
1.78 mm
cupronickel
1,010,000
2011

2012 Summer Olympics

-

Canoeing

Elizabeth II

, "ELIZABETH·II·D·G REG·F·D·", year (Rank-Broadley)

Canoer

canoeing in water, 2012 Olympics logo, value (Lees)
8 g
27.3 mm
1.78 mm
cupronickel
1,010,000
2011

2012 Summer Olympics

-

Cycling

Elizabeth II

, "ELIZABETH·II·D·G REG·F·D·", year (Rank-Broadley)

Velodrome

cyclist, 2012 Olympics logo, value (Crutchley-Mack)
8 g
27.3 mm
1.78 mm
cupronickel
800,000
2011

2012 Summer Olympics

-

Gymnastics

Elizabeth II

, "ELIZABETH·II·D·G REG·F·D·", year (Rank-Broadley)

Gymnast

with ribbon, 2012 Olympics logo, value (Olliffe)
8 g
27.3 mm
1.78 mm
cupronickel
1,007,313
2011

2012 Summer Olympics

-

Hockey

Elizabeth II

, "ELIZABETH·II·D·G REG·F·D·", year (Rank-Broadley)
Two female hockey players, 2012 Olympic logo, value (Evans)
8 g
27.3 mm
1.78 mm
cupronickel
1,001,000
2011

2012 Summer Olympics

-

Rowing

Elizabeth II

, "ELIZABETH·II·D·G REG·F·D·", year (Rank-Broadley)
Two rowers in a boat, 2012 Olympic logo, "EXCELLENCE", FRIENDSHIP", "FAIR PLAY", "RESPECT", "FRIENDSHIP", "FAIR PLAY", "RESPECT", "EXCELLENCE", value (Podimore)
8 g
27.3 mm
1.78 mm
cupronickel
1,005,300
2011

2012 Summer Olympics

-

Triathlon

Elizabeth II

, "ELIZABETH·II·D·G REG·F·D·", year (Rank-Broadley)
Three figures: one

running

, one

biking

, and one

swimming

; Olympic logo, value (Harvey)
8 g
27.3 mm
1.78 mm
cupronickel
1,011,000
2011

2012 Summer Olympics

-

Badminton

Elizabeth II

, "ELIZABETH·II·D·G REG·F·D·", year (Rank-Broadley)

Shuttlecock

,

badminton

stances, 2012 Olympics logo, value (Kelly)
8 g
27.3 mm
1.78 mm
cupronickel
1,005,000
2011

2012 Summer Olympics

-

Boxing

Elizabeth II

, "ELIZABETH·II·D·G REG·F·D·", year (Rank-Broadley)

Boxing gloves

,

boxing ring

, 2012 Olympic logo, value (Abery)
8 g
27.3 mm
1.78 mm
cupronickel
805,000
2011

2012 Summer Olympics

-

Equestrian

Elizabeth II

, "ELIZABETH·II·D·G REG·F·D·", year (Rank-Broadley)
Rider on

horse

jumping over three poles, 2012 Olympics logo, value (Babbage)
8 g
27.3 mm
1.78 mm
cupronickel
1,005,000
2011

2012 Summer Olympics

-

Modern pentathlon

Elizabeth II

, "ELIZABETH·II·D·G REG·F·D·", year (Rank-Broadley)
Five figures: one

fencing

, one

running

, one

swimming

, one

shooting

a

pistol

, and one on horseback; 2012 Olympics logo, value (Brittain)
8 g
27.3 mm
1.78 mm
cupronickel
705,000
2011

2012 Summer Olympics

-

Shooting

Elizabeth II

, "ELIZABETH·II·D·G REG·F·D·", year (Rank-Broadley)
Man shooting a

rifle

, 2012 Olympics logo, value (Dewdhory)
8 g
27.3 mm
1.78 mm
cupronickel
1,005,000
2011

2012 Summer Paralympics

-

Table tennis

Elizabeth II

, "ELIZABETH·II·D·G REG·F·D·", year (Rank-Broadley)
Two hands holding

table tennis rackets

, ball, table, 2012 Paralympics logo, value (Linsdell)
8 g
27.3 mm
1.78 mm
cupronickel
1,010,000
2011

2012 Summer Olympics

-

Volleyball

Elizabeth II

, "ELIZABETH·II·D·G REG·F·D·", year (Rank-Broadley)
Female

volleyball

players going for

volleyball

, net, 2012 Olympics logo, value (Boothman)
8 g
27.3 mm
1.78 mm
cupronickel
1,005,000
2011

2012 Summer Paralympics

-

Goalball

Elizabeth II

, "ELIZABETH·II·D·G REG·F·D·", year (Rank-Broadley)

Goalball

player, 2012 Paralympics logo, value (Wren)
8 g
27.3 mm
1.78 mm
cupronickel
1,005,000
2011

2012 Summer Olympics

-

Taekwondo

Elizabeth II

, "ELIZABETH·II·D·G REG·F·D·", year (Rank-Broadley)

Taekwondo

fighters sparring, 2012 Olympics logo, value (Gibbons)
8 g
27.3 mm
1.78 mm
cupronickel
1,005,000
2011

2012 Summer Olympics

-

Weightlifting

Elizabeth II

, "ELIZABETH·II·D·G REG·F·D·", year (Rank-Broadley)
Female

weightlifter

in action, 2012 Olympic logo, value (Shakespeare)
8 g
27.3 mm
1.78 mm
cupronickel
1,005,000
2011

2012 Summer Paralympics

-

Wheelchair rugby

Elizabeth II

, "ELIZABETH·II·D·G REG·F·D·", year (Rank-Broadley)
Man in

wheelchair

with a

rugby ball

in his lap, 2012 Paralympic logo, value (Ratcliffe)
8 g
27.3 mm
1.78 mm
cupronickel
505,000
2011

2012 Summer Paralympics

-

Wrestling

Elizabeth II

, "ELIZABETH·II·D·G REG·F·D·", year (Rank-Broadley)
Two

wrestlers

sparring in arena, 2012 Paralympics logo, value (Enriquez)
8 g
27.3 mm
1.78 mm
cupronickel
505,000
2011

2012 Summer Paralympics

-

Boccia

Elizabeth II

, "ELIZABETH·II·D·G REG·F·D·", year (Rank-Broadley)

Boccia

player in

wheelchair

, 2012 Paralympics logo, value (Chung)
8 g
27.3 mm
1.78 mm
cupronickel
1,005,000
2011

2012 Summer Olympics

-

Basketball

Elizabeth II

, "ELIZABETH·II·D·G REG·F·D·", year (Rank-Broadley)
Four basketball players, 2012 Olympics logo, value,

basketball

background (Payne)
8 g
27.3 mm
1.78 mm
cupronickel
1,005,000
2011

2012 Summer Olympics

-

Fencing

Elizabeth II

, "ELIZABETH·II·D·G REG·F·D·", year (Rank-Broadley)
Two

fencers

sparring, logo of 2012 Olympics, value (Summerfield)
8 g
27.3 mm
1.78 mm
cupronickel
1,005,000
2011

2012 Summer Olympics

-

Handball

Elizabeth II

, "ELIZABETH·II·D·G REG·F·D·", value, year (Rank-Broadley)
Handball player above play ground, 2012 Olympic logo, value (Ratcliffe)
8 g
27.3 mm
1.78 mm
cupronickel
1,005,000
2011

2012 Summer Olympics

-

Football

(Soccer)

Elizabeth II

, "ELIZABETH·II·D·G REG·F·D·", value, year (Rank-Broadley)

Field

diagram, 2012 Olympic logo, value (Wolfson)
8 g
27.3 mm
1.78 mm
cupronickel
500,000
2011

2012 Summer Olympics

-

Tennis

Elizabeth II

, "ELIZABETH·II·D·G REG·F·D·", value, year (Rank-Broadley)

Tennis ball

, net, 2012 Olympic logo, value (Baines)
8 g
27.3 mm
1.78 mm
cupronickel
605,000
2011
50th anniversary of the

World Wildlife Fund

Elizabeth II

, "ELIZABETH·II·D·G REG·F·D·", value, year (Rank-Broadley)
WWF logo, numerous

animals

,

plants

, and other objects, year (Dent)
8 g
27.3 mm
1.78 mm
cupronickel
1,000,000
silver
250,000
2011

2012 Summer Olympics

-

Judo

Elizabeth II

, "ELIZABETH·II·D·G REG·F·D·", value, year (Rank-Broadley)
Two

judoists

sparring, 2012 Olympic logo, value (Cornell)
8 g
27.3 mm
1.78 mm
cupronickel
1,005,000
2011

2012 Summer Olympics

-

Sailing

Elizabeth II

, "ELIZABETH·II·D·G REG·F·D·", value, year (Rank-Broadley)
Three

sailboats

in the water, 2012 Olympic logo, grid background, value (Rushin)
8 g
27.3 mm
1.78 mm
cupronickel
1,005,000
References
Edit